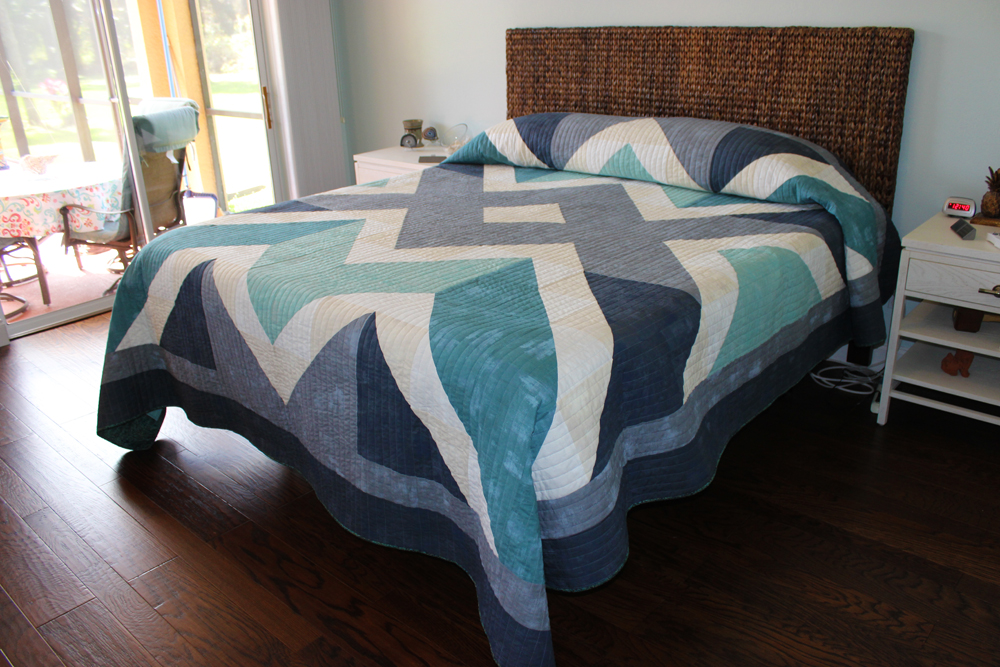 All hail to the new king!  During the Ft. Myers show in February, a show attendee began a conversation with me regarding my services.  She had noticed my name on several quilts on display and I had a booth, too.  I had never met this person, but she was happy to give me her soon-to-be daughter in-law's king-sized quilt made of Grunge fabrics and a wide-back fabric called "Shimmer" by Northcott. She conveniently had it in her car, hoping to meet a quilter at the show! She warned me that the quilt was large.  She also needed this for wedding in March.  As it turns out, I was catching up on my projects in queue and I took her order. She will need to get it to Los Angeles for the wedding – by March 15! Heck, I just might deliver it to her personally because she lives on Sanibel Island (shellling mecca!) and we like a restaurant there – one has to think of mutually beneficial logistics, right?
This quilt  measures 116″ x 134″.  I have a 14′ frame, but it was meant to load not much more than 12 feet or 144″.  Now at 134″ without backing and batting tolerance of 6″ minimum, I was reaching my upper limit.  As a matter of fact, next time a king size quilt comes along, it cannot be more than 128″.  Some people might believe that quilting is easy since it is a computerized long-arm, but think again. She confirmed the length of the quilt was 134″ – meaning for the lines to be vertical, I had to load the quilt so it would quilt horizontally. Think that through…to make the vertical lines continuous, the quilt had to be loaded the length of the frame!
The backing fabric had to be cut so that it could cover this beast of a king, and with the help of Eddie, we were able to create the back with the least amount of waste.  We wrestled with more than 8 yards of 106″ wide fabric! Luckily for me the customer only wanted an edge-to-edge design that was straight vertical lines.  The cost for quilting was $385, $25 for piecing the backing, and $105 for making the binding strips, machine attaching to the front of the quilt, then hand sewing the binding to the back. 
Yes, you read that right – $105 for hand binding. After  a careful market research, we found that the most popular quilting company, Missouri Star Quilt Company, charges a flat-fee of $105.  Some may think longarm quilters live a life of luxury, but hand binding can be time-consuming and, when placed down to an hourly rate, we earn slightly higher than fast-food restaurant wages.
Oh, and she purchased four of Eddie's embroidered beachy kitchen towels with coral and blue colors matching her kitchen decor!  We're so glad she took a chance on meeting a quilter at the Ft. Myers quilt show!