Maribel J. is one of our most passionate customers.  We love seeing and hearing her reaction to the finished work on her quilts.  A recent project of hers now hangs, with much pride,  in her office at Naples High School, Florida – not Italy (we wish).
She recently asked friends and coworkers for any t-shirts they didn't want any longer so she could make this quilt. She carefully cut and sewed the units together along with a yellow fabric insert between the rows. Interestingly, she used no stabilizer behind the shirts, which is the most preferable way to keep the shirt pieces from stretching out of shape. It quickly went on the frame and quilted beautifully. She picked it up and bound it that night to reveal it the first week of school!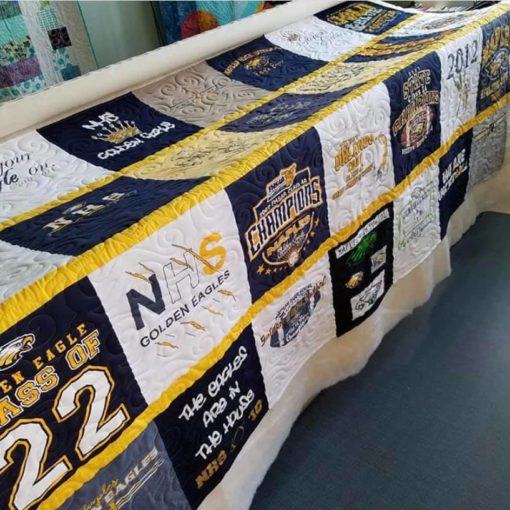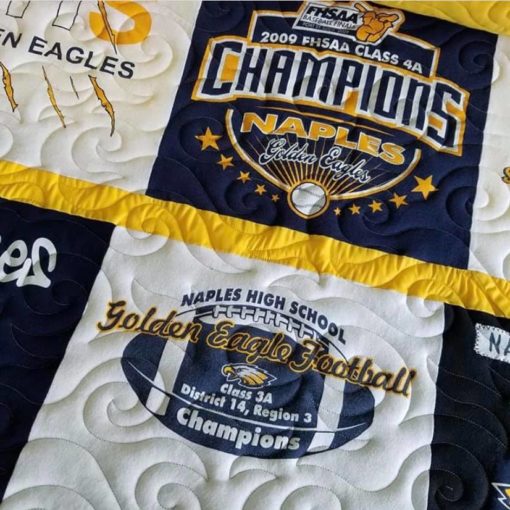 Maribel's other passion (besides Harley Davidson) just might be Harry Potter! She scoured Etsy and Ebay to find the panels and coordinating fabrics. She had made 3 (Yes! – THREE!) quilts…so far. She still wants to make one for herself!