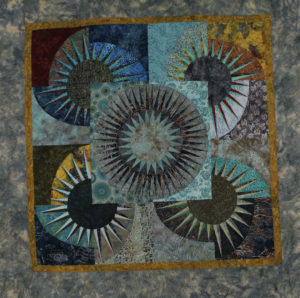 We like to brag about our customers every so often.  Case in point is Mr. Kirk Clausen, a new quilter and member of the Naples Quilt Guild.  Most new quilters get their teeth wet on simple projects such as a nine-patch that my grandmother taught me with. Oh no, Kirk decided to go all out and design a New York dream pattern by designer Deb Karasik. If you are looking for a challenge check Deb's site.

This top that was presented to me was incredibly pieced and ready for quilting.  Not only did I quilt the quilt above, I also quilted another for Kirk, equally as challenging.  His first two quilts were complex for most seasoned quilters.
One area that makes these types of quilt difficult is the long triangular shapes I call a spire. If you try to force too much of a pattern into the adjacent empty spire, the detail is lost.  All I wanted to do was provide depth and definition to the void spire to bring out the beauty of the fabric of the outward radiating spires.  My wonderful husband and digital designer came up with a point-to-point pattern that allowed me to concatenate and fill those void spaces and accomplish the task of definition.  That spire is now added to our digital design collection in our shopping section.