Crossed Canoe Design for a String Quilt
Our goal is to treat each customer's quilt as unique and one-of-a-kind. We may see a pattern design replicated but the fabric choices that a person chooses can be as different as night and day. This is particularly true with scrap quilt, or in this case, a string quilt. My customer, Stacee, is a scrap quilter and she used reproduction 30's fabrics in this beauty!

The pattern she used is called Diamonds Are Forever from the book String Quilt Revival (you can find the book here!) however, it is sometimes called Jumping Jack and is similar to Crossed Canoes. My approach was to stitch a different but coordinating design in the white space. Most times a quilted pattern will not show up with so many different fabrics.
Joyce Lundrigan of Methodist Hill Quilt Studio had the perfect design for the white stars and the pieced diamonds. I chose a design by Christy Dillon of My Creative Stitches for the outer border. But what would I use for the white inner border?
So I asked Eddie to design something similar to the design in the white area but it only needed to be about 2 inches square. He hit it out of the park!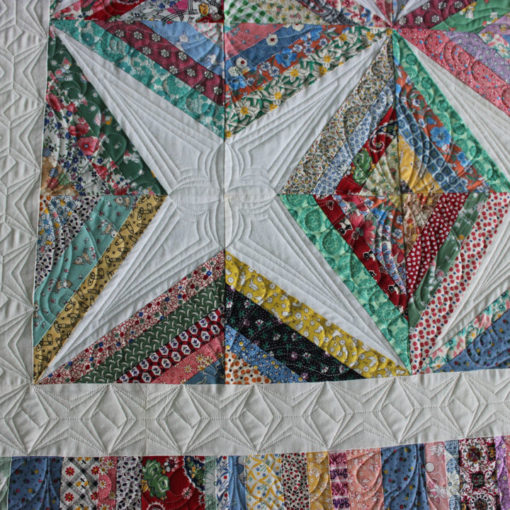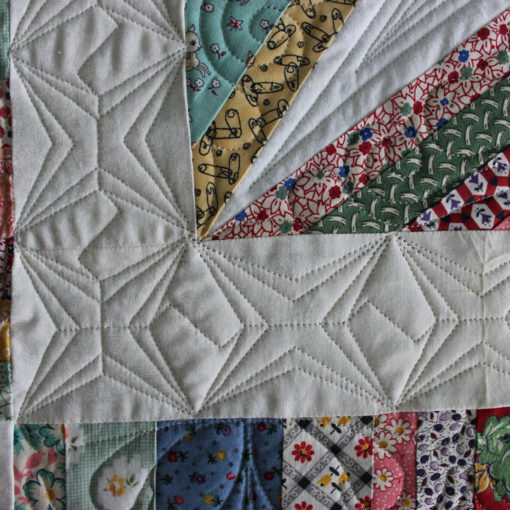 My husband tells me that part of the challenge of designing is to make a single stitch pattern and where a back stitch is required you design it to a small section as not to be noticed. Part of that challenge is to make certain any artwork is created first, visualizing your path, and making certain you supply enough anchors so that when you trace your artwork you can snap your stitch instructions exactly over each line needing a back stitch.  If you can find that back stitch in the picture you win a prize.  Hint, it's in the corner object.

The joy of quilting on a Gammill longarm machine, is letting Creative Studio by Statler figure the math for the borders. I click out a boundary and the computer figures the number of crosses I need to fit across the width of the quilt. My job is to make it stitch seamlessly as possible so it's hard to see the stops and starts.
In the end your custom quilt may include objects from multiple designers, giving you a very unique and personalized custom quilt.  In the future, there will be more of our own designs. What challenge will you bring us next?