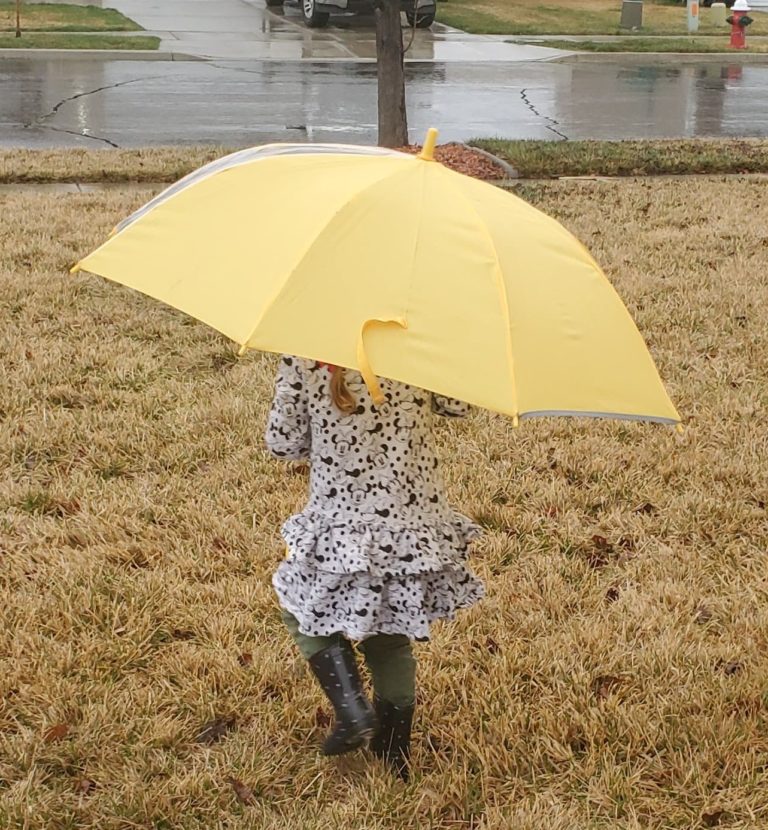 Our daughter posted a photo today of our granddaughter Evelyn, who is autistic, playing in the rain.  We find ourselves in the midst of a metaphorical deluge, wondering when the rain will stop falling.  It always does, yet there are no guarantees we will be spared suffering – this is life.  My friend, who I helped sell a fraction of her stash at Fort Myers and Naples shows, passed away on March 2nd.  The COVID-19 virus was NOT her downfall, yet with her condition, she was one at the highest risk.  In some respects, it was a blessing she passed before she could be infected.  All we can do is be vigilant and follow the directives of those wiser than us. 
In the meantime, we can use this time to address our own plans and contingencies – those things we put off.  It is a time for solitary reflection and a time to take on projects that will occupy our troubled minds.  We quilters understand this – it is our therapy.  Here at The Beachy Quilter, I had plans of bringing out new products and services in April, even some humor.  We've decided to lower the expectations and hold the humor off for a while.  The rain will end and we will need days for the sunshine to bring the world back into health.  There probably is no better time to piece your tops than now.  We do have a wide variety of products on sale at much reduced prices, so that hopefully we too can weather this storm.   We have to make tough decisions, not unlike many of the times we have personally already experienced.
Effective immediately, I am giving all E2E customers a 20% discount for the duration of this crisis.  For those tops already in my queue, I am hard at work to meet your deadlines – you, too will get this 20% discount. My standard .025 cents per square inch will now be .02 cents per square inch. I feel that this is the moral thing to do when so many have lost savings and their jobs.  I am blessed to work safely from home and hope to be able to continue to do so for a long time to come.
Eddie will continue to pick up tops and/or bring completed projects once a week on Wednesday – outside of Flash Quilt Shop-Naples, but not inside.  Eddie will handle your project at a safe social distance as prescribed by authorities (six feet).  He will place the project on Flash's bench and then step back for you to pick up.  Please place your payment in an envelope and lay on the bench and then, as you step back, he will gather the payment.  The same process will apply for quilt tops being picked up less payment. If you still wish to make the drive out to the country in person, please call ahead and I will have a chair on the porch available to transfer tops and completed projects. I'd love to see you but it will be a brief visit and I know you will understand. Be sure to wash your hands when you return home and place your project away for at least 48 hours before handling again. Let us each have an abundance of precaution.
If you need to pay by credit card, I will submit an invoice to you through PayPal and you can pay online.  We can also handle all transactions via mail.  The USPS will pickup any deliveries we need to make from our home – we will not go into any post offices at this time.
If need be, we can also converse by Skype, Facebook Messenger or text – and as always, telephone. We will get through all of this.
Click on the Flip Flops image below and enjoy a video with Louis Armstrong's "What a Wonderful World."  Until we meet again, please stay safe, and may thoughts and pictures of your own loved ones brighten your day.
Contact me if you have any questions or concerns.