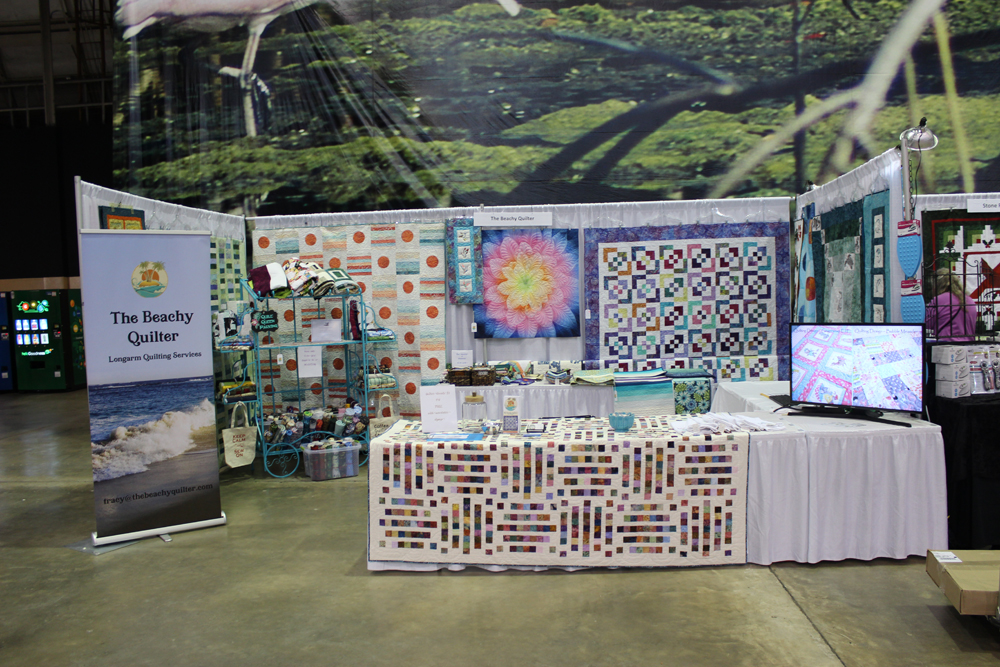 The SW Florida Quilt Guild show is now history.  The two day event had us hopping with activity in our vendor booth.  Not only did we field questions on my quilts and quilting services, we had many people take advantage of fabric remnants at $3 per yard and 50 cent fat quarters.  100% of the fabric sales are for an ill Naples guild member who is de-stashing. I even had a non-member become a new customer when she dropped off a king size quilt top that she needed completed by early March for a wedding gift headed to Los Angeles! It will be the second largest quilt I ever received to finish.

Eddie fielded questions on his embroidery designs and his "Aloha O Honu" quilt.  We had over 50 people sign up for our monthly newsletter soon to be released now that we have over 110 subscribers – in exchange for signing up, they received a FREE quilting car decal by our daughter, Courtney! We will be giving out more FREE decals for sign up at the Naples show! My quilts won three awards, and I won 4 other awards for quilts I quilted for Carol Dengler and Betty Gould – see the photo carousel below. 
I expect to have over a dozen customer quilts on display at the Naples Quilt Guild show in March, you can see the dates HERE.  Eddie's Honu quilt will be judged in the newcomer category and my three quilts will be judged as well.  We invite everyone to come to our booth to say hello, browse even more fabric, buy our reasonably priced quilts (mention the code 2020SHOW and get an additional 20% off finished quilts for sale) and learn more about what the Beachy Quilter has to offer for 2020 and beyond!